SPOTLIGHT
UL Buzz Celebrates its 50th Issue!
The 50th issue marks a milestone for UL Buzz. Started in May 2011, this newsletter has been doing what it aimed to - sharing knowledge, new developments and technologies in the eLearning space with thousands of readers (like you). In reaching here, it has seen changes - in the L&ampD domain, in designing and technology standards, in viewing and reading preferences, and more. And 11,000 subscribers, 50 issues and 4 years later, UL Buzz continues to evolve with each issue, providing you with the latest in learning and giving you the best reading experience on any device of your choice. View Previous Issues.
Great Experience. Greater Expertise



We leverage our 11+ years of experience across geographies and industries, tools and technologies to give our clients the expertise to succeed. Watch the video to learn how our experience lays down the foundation of a well-designed learning course. We don't stop at good. We #DoGreat.

FROM OUR BLOG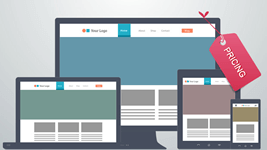 One of the most common questions to an eLearning vendor is "How do you price your Custom eLearning projects?" A few years ago, the answer to this would have been relatively simple; however, with widespread use of authoring tools for in-house content development the story is a bit different now.
Every now and then we come across these three terms - Games, Game-based Learning and Gamification - that sound similar but are different in their own ways. The differences may be subtle, but that's what sets them apart. Here is how we differentiate the three, in simple terms.

VIEW TO LEARN
eLearning industry today is doing more than just creating learning content. It is fundamentally evolving with the technology and quickly mastering the shift from "old" to "new." In line with this, here are 10 eLearning Trends for 2015 that may act as the game changers for organisations using Technologically Enabled Learning.


Learning is evolving. With the onset of the multi-device culture, learning is expected to be available on any device, at any time, and anywhere. Join us for a webinar as we reveal some smart ways to design, develop, test and deliver multi-device eLearning.
Speakers -
Amit Garg
Founder & Director –Custom Learning Solutions
Jeevan Joshi
Director Client Solutions of Asia Pacific, Upside Learning
1st July
03:00 PM (Sydney Time)
10:30 AM (New Delhi Time)

UPSIDE LEARNING IN NEWS

UPCOMING PRODUCT DEMO
We are showcasing our all new, Responsive LMS live! Join us for a free demo session as we take you on a tour and reveal the new features & functionalities that UpsideLMS has to offer.
30th June
10:30 AM (New Delhi Time)

INDUSTRY SIGHTINGS



UPSIDE LEARNING IN A FLASH
Upside Learning is a leading provider of learning technology solutions. We help over 200 organisations across the world to create, deliver and manage their learning and performance improvement programmes through:

Get to know us better by viewing our corporate video.