eBook on Project Leadership for Kindle 2
Business Need
As a leader in business improvement consultancy and training, PMI has been publishing books and other resources on various topics covered under its umbrella. Not only are these books amongst some of the most popular books available at the brick‒and‒mortar bookstores, but these are also popular on online bookstores like Amazon.com.
In today's day and age where on the move has become a norm and new technologies have brought in a wide variety of devices, it is imperative for an organisation to cater to its audiences through a format and a delivery mode that is the most acceptable. This was the main reason why PMI wanted to convert one of its books in an online format; a format that has gathered, and continues to gather, increasing importance. Further, given the rise in the number of eBook readers and popularity of the Kindle reader, the chosen device was Kindle.
Solution
The book chosen for the eBook conversion was PMI's handbook on work management and improvement, called the 'Project Leader's Handbook'. An invaluable reference for anyone involved in improving and managing their work, the book helps senior managers to understand the approach being taken by their people, whilst participants in teams like to refer to it for the details of what is going on.
With the purpose of the handbook clearly defined to provide guidance on when and how to use each work management tool, especially in backing up training that the reader may have received face to face or online, an online version of this book was of utmost importance for PMI. This would ensure that the learners could reinforce their knowledge on the go or just‒in‒time of need.
PMI provided Upside Learning with all the necessary content and diagrams, while Upside Learning undertook the tasks of layout designing and other text formatting.
The book was developed in Indesign as well as Kindle 2 compatible format. The Kindle compatible format was developed using HTML.
Converting the handbook in Kindle compatible format ensured that PMI could target not just the hard‒bound book reading segment but also the growing segment of eBook readers.
Also, having an eBook meant that any update in content could be easily and quickly sent to the readers. For the readers, this eliminated the need to buy a revised version.
Business Benefits
Ability to tap a new segment of readers
Ability to do quick updates in the eBook
Increased readership
Highlights
Compatible with Kindle 2
Graphics included for better understanding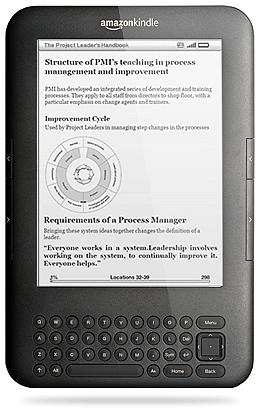 About PMI
Headquartered in the UK, Process Management International (PMI) has been at the forefront of business improvement consultancy and training since 1984. It works with organisation from every sector, of every size, on every continent to help them transform the way they work. Over a period of 27 years, it has served thousands of people through training and consultancy, and shaped countless organisational and business improvement programs.