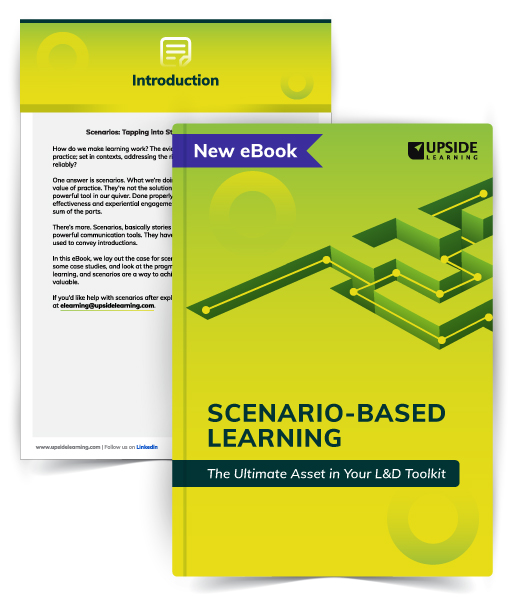 A brief on the eBook:
Immerse yourself in the realm of scenario-based learning with our extensive eBook. Explore how to craft impactful scenarios that can lead to significant advancements in learning. Acquire knowledge about the essence, rationale, and methodology behind scenarios, while also gaining valuable perspectives on their creation, implementation, and evaluation. Avoid common mistakes and make the most of this powerful learning design approach.
Get your copy today and enhance your scenario-based learning for more effective outcomes.
Download Free eBook to Find Out
Take a quick look inside.
The What and Why of Scenario-Based Learning

Discover the importance of scenarios in efficient learning. Understand how scenarios use narrative to improve decision-making abilities and investigate the seamless integration of scenarios into your learning solutions.

Defining Scenarios

Understand the core structure of scenarios, and several other associated dimensions. Explore the different types along with associated dimensions and implementation specifics for each type.

When to Scenario?

Scenarios are one of the most effective tools for contextualized learning; however, they are not always the best answer. For effective results, learn when to employ scenarios and which scenario structure to apply.

Scenario Design: Go to Whoa

As with all learning design, you need appropriate initial information gathering, then aligned design, implementation in appropriate technologies, and evaluation to test and finalize the design. However, there are nuances to scenario design that should be observed.

ScenariNos

Avoid common mistakes in scenario-based learning, such as errors in commission and omission, to ensure effective and engaging learning outcomes. These 'nos' are commonly seen in ineffective scenarios or can hinder successful implementation.

Scenario Acronyms: From MCQ to AI

Tap into the various dimensions and tools for implementing scenario-based learning, from standard authoring tools to branching media and simulation-driven experiences, and from the trade-offs to the potential of different approaches to create effective learning scenarios.

Case Study 1: Mini-scenarios

Mini-scenarios are a way to practice component skills in a context that are simple to implement. As such, they play a role in developing skills that matter to organizations. Find out how we used them effectively for cultivating company culture and behavior alignment in a large financial institution.

Case Study 2: Branching Scenarios

Branching scenarios provide rich practice in situations where more than one decision is embedded. Find out how we used them as a crucial tool for preparing the Special Assistance Teams of a global airline to handle emotional situations during accidents, enabling them to make informed choices and ensure excellence in their response.

Scenario Success Factors

Scenario-based learning is a valuable approach, but as with all design tasks, that value comes most clearly when things are done right. Master successful scenario-based learning design with key elements and processes.

Tradeoffs in Scenarios: Costs and Impact

While scenarios lead to better learning, there are tradeoffs. There are some costs associated, and some benefits on tap. Scenario-based learning enhances learning outcomes through contextualized practice, offsetting development costs, and facilitating behavior change.

Sample Scenarios in Action

Explore Mini-Scenarios, Linear-Scenarios, and Branching Scenarios with real-life examples to enhance engagement and decision-making skills.