Upside Learning in the 15 top companies listed as "Emerging Leaders in Training Outsourcing"
Upside Learning has been included in the fourth annual list of "Emerging Leaders in Training Outsourcing" announced by Training Industry, Inc. on April 7, 2009.
This list recognises the top organisation from the global market that have demonstrated "innovation and excellence" in the provision of outsourced learning services and are now ready to raise their service levels to clients. The aim of this list is to provide businesses, government agencies, and training companies seeking learning solutions outsourcing partners with a short list of skilled, successful, and reliable organisation. This can help them to make more informed decisions and procure high-quality learning services.
Being included on this list is recognition of our experience, expertise, and capabilities as a learning solutions provider. It brings us alongside some of the well known and large training and eLearning organisation from around the world.
It's no small recognition to have achieved in just five years of operation, and comes on the back of inclusions into Deloitte's Technology Fast 50 India 2008 program and Technology Fast 500 Asia Pacific 2008 program.
Click here to view the complete "2009 Emerging Leaders in Training Outsourcing" list.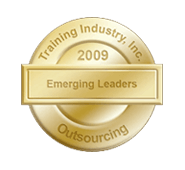 We are pleased to be included in this list of Emerging Leaders. It is a significant milestone for us and our team is happy to have achieved this.
Amit Garg
Director – Content Solutions Upside Learning

This is a great recognition of the value we deliver to our customers. Being named as an Emerging Leader definitely acts as a great motivator for the entire team at Upside.
Amit Gautam
Director – Technology Solutions Upside Learning