As the countdown to Europe's leading showcase of organisational and technology learning, Learning Technologies 2015 begins, Upside Learning invites L&D professionals to share their most pressing challenges pertaining to multi-device learning.
The participant to post the most pertinent challenge stands a chance to win the 'highly sought after' conference pass (valued at £1099). The pass entitles the winner to the 2 day conference, to be held on 28th and 29th January at Olympia Central, London, which is touted to be 'the must-attend conference' for all learning and development professionals. With a huge array of sessions to choose from, including keynote addresses, cafe sessions, panels, case studies and theory presentations, the winner will get a chance to listen to, and interact with, some of the leading thinkers and practitioners in workplace learning, gaining practical guidance for his/her challenges today, as well as insights into the big picture of learning tomorrow.
Upside Learning will be publishing answers to the challenges submitted on their blog (www.upsidelearning.com/blog). Alternatively, participants can also look forward to having their challenges addressed by Amit Garg at Upside Learning's stand (# 146).
At the stand, visitors can also take a look at:
UpsideLMS, the best value, responsive Learning Management System
Framework for Responsive eLearning Development (FRED), enabling faster and more reliable development of Responsive eLearning
Multi-device Testing Lab, for thorough testing of Multi-device eLearning projects.
To participate and earn a chance to a free pass at the biggest L&D Exhibition & Conference, interested individuals can use #UpsidePass via Twitter and submit their multi-device challenges on or before 12th January 2015.
More information about the event can be found here – http://www.learningtechnologies.co.uk/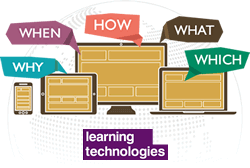 This is a great way to involve everyone in the learning community. Multi-device Learning is on the rise and with it comes a plethora of challenges in developing, testing and delivering eLearning. We want to be able to reach the pulse of the organisations, feel their pain points pertaining to multi-device learning; learn from them and be able to offer/create solutions.
Amit Garg
Founder & Director – Custom Learning Solutions Upside Learning