'How can you move your eLearning to HTML?' Upside Learning to explain at Learning@Work 2014
Upside Learning, a leading provider of learning technology solutions, will be participating as a seminar sponsor in the Learning@Work 2014 conference. To be held in Sydney, Australia from 27th to 29th October, the event will bring together international visionaries and thought leaders presenting on the latest topics, trends and challenges affecting the workplace learning environment, and devising strategies to enhance organisational L&D offering.
One of the major challenges almost all organisations face today is the wide range of devices on which eLearning needs to be supported. Different browsers, sizes, operating systems and platforms further add to this challenge. In making eLearning truly accessible, L&D professionals are now starting to feel the need to move towards HTML. To help them understand the why and how of converting eLearning to HTML, Upside Learning's Co-founder and Director, Amit Garg, will present an informative learning session titled, 'The why and how of moving your eLearning to HTML' on 27th October at 2:15, 2:50 & 3:25 PM (AEDT).
Upside Learning will be present at stand # 2 where it will play host to a wide range of innovative learning technology solutions namely:
UpsideLMS, its fully responsive, multi-award winning Learning Management System ;
Custom mLearning;
FRED (Framework for Responsive eLearning Development);
Multi-device Testing Lab (for reliable and thorough testing of multi-device eLearning projects).
Present at Upside Learning's stand 2, alongside Amit, will be Jeevan Joshi, Director Client Solutions for Asia-Pacific. Amit and Jeevan will answer delegates questions related to the session or any other learning requirements. Interested individuals can stop by the stand or alternatively, set an appointment by emailing Jeevan on jeevan.joshi@upsidelearning.com.
For more information on the conference, please visit http://acevents.com.au/learningatwork/index.html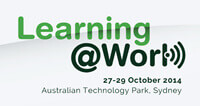 In line with the conference theme of accelerating workplace learning and development, I'm sure this seminar will prove to be quite useful for L&D professionals in making the eminent switch from Flash to HTML.
Amit Garg
Founder & Director - Custom Learning Solutions Upside Learning