Upside Learning And Vocollect Win The 'Best E‑Learning Team Of The Year' Award In The 2013 E‑Learning Awards
The E‒learning Age awards, organised by e‒learning age, recognise excellence in the development and delivery of e‒Learning. Upside Learning, a global leader in workplace learning technology solutions, along with Vocollect has bagged a gold award for the 'Best E‒Learning Team of the Year'. The who's who from the learning, development and technology fraternity flocked to one of the most prestigious awards held in London on 7th November 2013, to celebrate the strength and depth of eLearning.
Vocollect, a leading developer and manufacturer of voice solutions, collaborated with Upside Learning to create updated courseware for its latest products and services. Upside Learning's in‒house team of graphic designers, instructional designers, programmers and quality analysts led by a project manager came together for the design and development of Vocollect's courseware. This team, called 'Gemini', demonstrated positive changes at Vocollect by helping it exceed their objective which was set as a key parameter by the organisers in picking the winner of the award.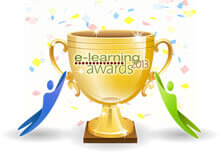 The 2013 awards have seen more than 200 entries across 16 categories from organisation across the world. It gives us a great sense of pride and accomplishment to be the one holding the trophy. All the meticulous work and preparation has paid off as we add another accolade to our already impressive list of awards.
Amit Garg
Founder & Director – Custom Learning Solutions Upside Learning