Upside Learning, a leading provider of learning technology solutions, has won the prestigious 2014 APEX Award for Publication Excellence in the Education & Training Electronic Media category. This award takes the company's tally to 8 APEX awards in 7 years.
Now in its 26th year, the APEX annual awards recognise excellence in graphic design, editorial content and overall communications effectiveness for print, web, electronic & social media. Upside Learning's winning entry was an informative and educational game, titled 'Information and Data Protection game'. The objective of the game was to help learners understand potential security breaches and Data Protection Principles in the workplace. The game's learning environment consisted of a virtual office wherein the learners had to spot various security hazards by exploring the office and carefully listening to the conversations between individual characters.
About APEX Awards
APEX is the Annual Awards for Publication Excellence Competition. It is open to communicators in corporate, nonprofit and independent settings. This is the 26th annual APEX, which began in 1988.
APEX is sponsored by the editors of Writer's Web Watch, an e-newsletter for communicators who write, edit and manage business publications. Writer's Web Watch is published by Communications Concepts, Inc., providing problem-solving information to professional communicators since 1984.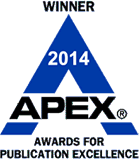 We are very pleased to win our 8th APEX Award. Winning an award is amazing, but winning an award repeatedly, year after year, is truly exhilarating. It not just demonstrates the quality of our work, but underlines our desire to improve continually.
Amit Garg
Director and Co-founder, Upside Learning