Be it offering best value through its multi award-winning, SaaS Learning Management System, UpsideLMS, or adding value to learning businesses with its wide range of Custom eLearning services, Upside Learning has always been on top of its game. A leading provider of learning technology solutions, this world renowned company reaffirms its commitment to add value as it celebrates its 12th anniversary today.
Founded on April 7, 2004, by Amit Garg, Director- Custom Learning Solutions and Amit Gautam, Director- Technology Solutions, with an aim to improve learning through better solutions, Upside Learning has always stuck by its philosophy of 'adding value to learning businesses'. Bearing testimony to this are the 40+ awards and recognition from Brandon Hall, Training Industry, CLO, APEX, eLearning Age, Deloitte and Red Herring that the company has won is a short span of 12 years.
Upside Learning's Custom eLearning portfolio has evolved over the years, keeping pace with the changing technologies and user behaviour, and today includes Multi-device/Responsive eLearning, Rapid eLearning, Onsite-ID Services, Translation & Localisation and Multi-device eLearning Testing services. UpsideLMS too has grown into a SaaS Learning Management System that is trusted by 90+ organisations and 750,000+ learners across the world.
In celebration of its 12th anniversary, the company has recently unveiled its corporate website (https://www.upsidelearning.com) and now has separate websites for Custom eLearning Solutions and UpsideLMS to bring better focus on its services and product respectively.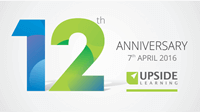 Upside Learning is proud of its past record of continual growth and profitability while delivering value-added learning technology solutions. At the same time, we are focused on years to come and plan to constantly deliver additional value to our clients and innovation to the industry.
Amit Garg & Amit Gautam