Upside Learning Celebrates Its 9th Anniversary; Narrates Growth Story Via Motion Parallax Scrolling
Upside Learning, a leading provider of world–class learning technology solutions, celebrated its 9th anniversary on 7th April. Commemorating its achievements over all these years, the company has used one of the latest web design techniques – motion parallax scrolling – to highlight its 9 Glorious Years of Learning in a unique and stunning way.
Co–founded in 2004 by Amit Garg and Amit Gautam, Upside Learning has emerged as a prominent and leading provider of innovative learning technology solutions to organisation across the world in a brief span of 9 years. The last year too has been quite successful for the company. It recorded over 125% growth for its best value Learning Management System, UpsideLMS, and a staggering 97% YOY growth for Q1–Q2 in FY 2012.
Drawing on its partnerships with several leading companies, Upside Learning extended its presence and learning portfolio in many new regions across the continents during the last year. To strengthen its presence in the UK and Europe further, the company established its independent office in the UK and appointed a Director–Client Solutions for Europe.
On the solutions and services front, Upside Learning introduced custom eLearning development services for iPads and other tablets, and mEnablement services for mobile devices including smartphones and tablets. It also integrated Tin Can API, a latest compliance standard, into its proprietary courseware framework for custom learning solutions (for desktops and mobile devices).
Underlining the company's commitment towards delivering value were awards. Upside Learning won two Brandon Hall Awards; a silver for Upside2Go, its revolutionary mLearning platform, and another for one of its Custom Learning Project, totaling its award count to more than 30.
The company also marked its presence at several premiere learning events like ASTD ICE, AITD National Conference, CIPD HRD, LearnX, mLearnCon, ASTD TechKnowledge, Learning Technologies etc., where it participated in various capacities; as an exhibitor, showcasing its wide range of solutions and services, and as a session presenter, delivering learning sessions. Webinars on topics like Mobile Learning, eLearning on iPads and Learning Management System were conducted throughout the year, while two free eBooks – one on LMS Switching and other on Mobile Learning – were published in November and April 2012, respectively. Recently, the company also released an infographic explaining why mobile learning is the future of workplace learning.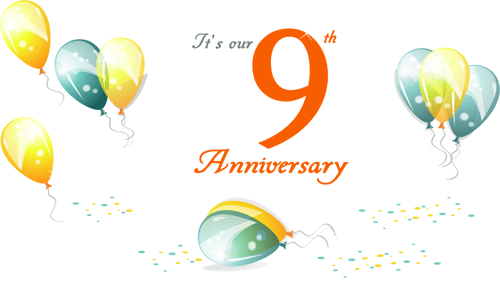 Like all other, this anniversary too will not be complete without a vote of thanks to our entire team, our partners and clients whose unwavering support makes every year special for us.
Amit Garg
Director of Custom Learning Solutions and Co-founder Upside Learning

The past nine years have been really great for us as a team, as a solution provider and as an individual too. We look forward to achieving greater heights and providing value to organisation across the globe through our service and solutions.
Amit Gautam
Director of Technology Solutions and Co–founder Upside Learning
View our 9 year journey