Continuing with it endeavour to help organisation understand and implement mLearning better, Upside Learning will be conducting a webinar on mobile learning later this month. Titled, 'Busting Mobile Learning Myths', the webinar will identify and bust the common myths surrounding mLearning that hold back its adoption at the workplace.
Earlier, the company has presented a webinar on mLearning, titled 'No Escaping Mobile Learning'. Exploring various reasons that make escaping mobile learning impossible for organisation, the webinar had identified the key drivers accelerating mobile learning adoption. 'Busting Mobile Learning Myths' is a logical extension to this webinar. It will uncover the most common mobile learning myths related to content delivery, security issues, SCORM compliancy, device specification and much more. This is a must–attend session for organisation thinking of leveraging mobile learning in their workplace as it will help them in understanding the realities behind these myths and making better decisions when adopting it.
The webinar will be presented by Amit Garg, Founder & Director of Upside Learning, along with Abhijit Kadle, Sr. Manager – Instructional Design at Upside Learning.
'Busting Mobile Learning Myths' will be held on 22nd October, 2012 at 11 AM EDT. The free 45 minute webinar will be followed by a 15 minute Q&A session with the webinar hosts.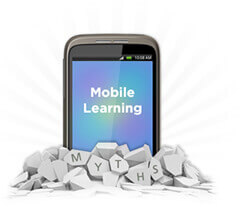 The mLearning domain is still new to many, so there are a lot of myths and misconceptions surrounding it. These myths don't just put a spoke in the wheel when it comes to mLearning adoption at the workplace, but they also present a rather distorted picture to the organisation thinking about mLearning. Through this webinar we will try to debunk these myths and hopefully open up new avenues for L&D departments.
Amit Garg
Founder & Director – Custom Learning Solutions Upside Learning