Upside Learning's eBook Helps Organisations to take their Custom Learning from 'Good' to 'Great'
Upside Learning, a leading provider of learning technology solutions, announced the release of its latest, free eBook, titled '99 Tips for Great Custom Learning', today. The eBook draws upon the company's 11+ years of experience and expertise in designing, developing, testing and delivering eLearning, mLearning and Responsive/Multi-device Learning solutions to 100+ organisations across the globe.
'Great' Custom Learning is the result of sound instructional design, visual sophistication and digital interaction supported by well-defined processes and project management. This ensures that not just the learning material but the process of development is 'great' too. As more and more companies start embracing Custom Learning solutions for their organisational learning needs, it is essential that they have a clear understanding of the designing, development and delivery process.
As a leading provider of Custom Learning solutions, with 5000+ hours of Custom Learning developed and more than 1000 projects completed, Upside Learning has a broad experience across tools, technologies, industries and geographies. Leveraging this, the company has complied 99 top tips across eLearning, mLearning and Responsive/Multi-device Learning, which will make it easier than ever for other companies to adopt and benefit from their Custom Learning initiatives.
What makes a Custom Learning solution 'great'
Tips for 'great' eLearning
Tips for 'great' mLearning
Tips on Designing and Testing Multi-device/Responsive Learning
Tips on UX/UI
The eBook is available for a free download here.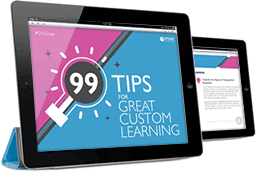 In a seamless and reader friendly experience, '99 Tips for Great Custom Learning' unlocks the secrets to #DoGreat, by providing exclusive tips on Custom eLearning, mLearning and Responsive learning development. I am confident that the eBook will be a complete guide for organisations planning on getting started with custom learning and also for those on a lookout for enhancing their custom learning experiences.
Amit Garg
Co-founder and Director – Custom Learning Solutions