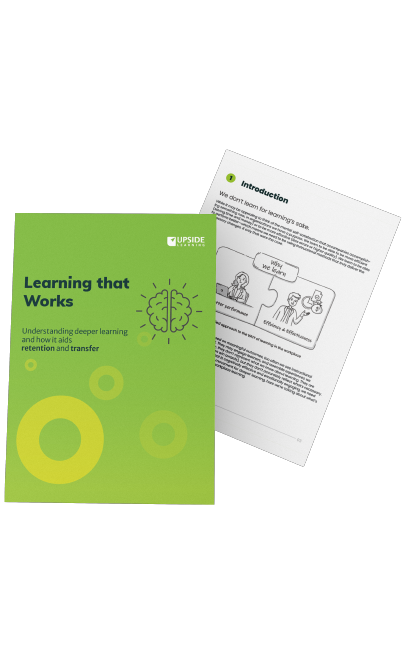 A brief on the White Paper
Humans possess the ability to learn, which means acquiring knowledge, skills, and behaviors for improved performance or growth. But is this learning valuable in terms of learning transfer, especially at the workplace? A working professional must learn not only to remember or retain knowledge and information but also to apply what is learned at the workplace to perform better.
This white paper will give you a better understanding of how learning, when correctly designed, aids retention and transfer, making the process of learning both valuable and profitable.
How should you design workplace learning that matters? How does deeper learning help in the process?
Introduction

Organizational or workplace learning has a purpose – to be able to be more efficient (saving time and money) or to be more effective (fewer errors or higher quality). For learning that is cognitively effective and emotionally engaging, we need more than just superficial learning. This section provides an overview.

Barriers to effective eLearning

Contrary to popular belief, humans are not logical beings. Evidence from behavioral economics and psychology proves that we are vulnerable to persistent errors in reasoning. Also, schooling is not learning. Most designs we see don't reflect what science has revealed about how learning is best achieved.

Basics of learning

To create learning that is persistent and appropriate, we must understand what leads to learning. Our learning designs need to incorporate elements that facilitate retention and transfer – ensure processing, provide practice, address emotion, and consider the elements of attention, elaboration, and retrieval associated with the processing loop.

Designing learning as if it matters

Design processes need to incorporate learning science in a practical and repeatable process for a deep learning experience. This includes how we start, what we emphasize, and how we check on our progress. It also includes what we don't develop, as much as what we do incorporate.

Deeper Learning

It is not advisable to spend money on designs that look good but aren't effective. To create performance impact, you need deeper learning. You need learning that elegantly integrates cognitive effectiveness with emotional impact, achieving the business results that are critical to success, and you should settle for nothing less.