Brandon Hall Group, a preeminent research and analyst firm has released its latest report on eLearning outsourcing today. The report titled- The Buyer-Provider Partnership: The Key to High-Quality Custom Content, is supported by Upside Learning, a leading player in the eLearning outsourcing domain. The report aims to help organisations to build successful client-vendor relationships in eLearning outsourcing.
Authored by David Wentworth, Principal Learning Analyst at Brandon Hall Group, the report is based on Brandon Hall Group's Content Outsourcing Study, which surveyed 206 companies of all sizes, representing approximately 30 different industries from organisations around the globe. It explores the current content outsourcing landscape and identifies the primary factors that drive eLearning outsourcing, the nature of outsourcing and the benefits gained.
The report available for free download, primarily highlights that the buyer- provider relationship has matured from being just a purchase and walk away thing. It points out that, 77% of companies leverage at least some outsourcing for content development and that developing content was seen as a priority or critical to the business by 68% of companies.
The key highlights:
What drives content development outsourcing?
Factors important in provider-buyer partnership
Satisfaction with providers and reasons for replacing them
The report is available for download here.
About Brandon Hall Group
Brandon Hall Group is a HCM research and advisory services firm that provides insights around key performanceareas, including Learning and Development, Talent Management, Leadership Development, Talent Acquisition, and HR/Workforce Management.
With more than 10,000 clients globally and 20 years of delivering world-class research and advisory services, Brandon Hall Group is focused on developing research that drives performance in emerging and large organisations, and provides strategic insights for executives and practitioners responsible for growth and businessresults.
To learn more visit – www.brandonhall.com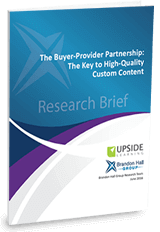 The eLearning outsourcing landscape has changed a lot in the last decade since we got into the game. eLearning Outsourcing which was originally seen as a cost saving tactic has become more strategic for many organisations. We are pleased to support this Brandon Hall Group's initiative to help organisations develop more successful outsourcing relationships with their vendors.
Amit Garg
Co-founder & Director – Custom Learning Solutions