Amit Garg Analyses Brandon Hall's Latest Report on eLearning Outsourcing in an Upcoming Webinar
As per the recently released Brandon Hall report on eLearning Outsourcing, today, for most organisations outsourcing their content development, cost is no longer the prime factor for driving their eLearning outsourcing requirements. On the contrary, other factors including quality, value and innovation have gained importance.
Based on this report, Amit Garg, a well known name in eLearning industry and Director and Co-founder of Upside Learning, will be presenting a webinar on 27th & 28th of July. Titled 'The Buyer-Provide Partnership – The Key to High-Quality Custom Content', the webinar will explore the eLearning outsourcing landscape in a new light. In the 1-hour session, Amit will analyse the report thoroughly, turn the data into decision-making tools, enlist the benefits and elucidate them through case studies based on content development work Upside Learning done with hundreds of clients over last decade.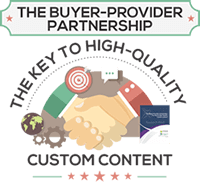 Organisations have often opted for eLearning outsourcing, mostly due to the cost benefit that it offers. Though cost still is a key aspect, what has changed over the years is the partnership/relationship. What was earlier just a purchase and walk away arrangement, now has a greater depth which when explored correctly gives the scope to greater benefits too.
Amit Garg
Co-founder & Director - Custom Learning Solutions