The APEX 2015 Awards for Publication Excellence, which were announced yesterday, feature Upside Learning as a winner in 3 categories for its work in Electronic Media and Social Media. The 3 awards have been won for its Framework for Responsive eLearning Development (FRED) under Electronic Media – Special Purpose category, its blog – The Upside Learning Solutions Blog under Social Media – Blog Content category, and an eLearning course developed for its client under Electronic Media – Multimedia category.
Upside Learning's Framework for Responsive eLearning Development (FRED) is an innovative HTML-based framework that helps develop responsive learning and performance support interventions on multiple devices seamlessly. The Upside Learning Solutions Blog, maintained and contributed to by the Upside Learning team, focuses on Innovation, Design, Development and Trends in the Learning Solutions domain. With over 1 Million views (in July 2013), it has 700+ blog posts on a wide variety of topics, thousands of subscribers and loyal readers, and recognitions and rankings from some of the apex awarding bodies.
APEX 2015, the 27th Annual Awards for Publication Excellence, is an international competition that recognizes outstanding publications from newsletters and magazines to annual reports, brochures and websites. This year close to 1,900 entries were evaluated by a panel of judges that includes John De Lellis, Concepts Editor & Publisher; Kenneth J. Turtoro, noted circulation executive and Marketing Director with the New York agency, Shain+Oringer, Christine Turner, Contributing Editor of the Writing That Works Archives and Bill Londino, Consulting Editor of Writer's Web Watch.
According to the APEX 2015 judges, "The awards were based on excellence in graphic design, quality of editorial content and the success of the entry in conveying the message and achieving overall communications effectiveness."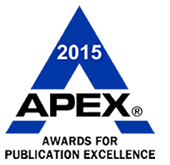 3 APEX awards – it's a hat trick for us! Emerging as a winner from close to 1900 entries, each portraying extraordinary level of quality, is truly commendable. As for every success, we could not have done this without the effort and support of our wonderful team!
Amit Garg
Co-founder & Director – Custom Learning Solutions