Training Industry Inc.'s Content Development Companies Watch List features Upside Learning, 2nd year in a row
The recently announced 2015 Content Development Companies Watch List by Training Industry Inc., features Upside Learning amongst 19 other companies from across the globe that provide content development services. Upside Learning has emerged as a winner after undergoing extensive research, including thorough analysis of its capabilities, experience, and expertise. This marks a milestone for the company as it gets listed in the prestigious Watch List for the 2nd consecutive year.
Upside Learning has been providing world-class Custom Learning solutions to organisations worldwide since its inception in 2004. In a short span of 11+ years it has successfully completed more than 1000 corporate and academic projects for over 200 clients, amounting to over 6000 hours of Custom Learning. Its expertise includes creating a variety of Custom eLearning and Custom mLearning solutions spanning direct content exposition, stories and scenarios, simulations, exploratory environments, thematic presentation and interactivities, and games. Upside Learning's in-house developed, HTML-based Framework for Responsive eLearning Development (FRED) helps in creating solutions for delivery on any combination of devices – be it desktop PCs or Macs, laptops, tablets, or smartphones. This is complemented by its Multi-device Testing Lab service. The company also provides Translation and Localisation services to support global eLearning rollouts, whether as a part of end-to-end project development or as independent services.
Selection to the 2015 Content Development Watch List is based on the following criteria:
Industry visibility, innovation and impact
Capability to develop and deliver multiple types of content
Company size and growth potential
Depth and breadth of subject matter expertise
Quality of clients
Geographic reach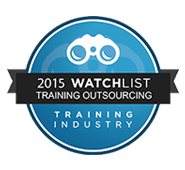 What differentiates us from other Content providers is our ability to recognise the uniqueness of every client's learning needs, and work with them every step of the way, with the same shared objective, to understand their learners' profiles and learning environments as well as the performance goals and business objectives, and develop the right solution that can meet these needs. Being recognised as a leading content development company by Training Industry Inc. 2nd year in a row is a great achievement which drives us to do better, time and again.
Amit Garg
Co-founder & Director – Custom Learning Solutions