The June 2015 issue of Upside Learning's UL Buzz marks a milestone in the corporate newsletter's journey as it reaches its 50th issue. Started in May 2011, with a subscriber base of 2500, the newsletter today enjoys a loyal readership of 11000+ subscribers.
Targeted at learning professionals and other stakeholders, UL Buzz is steeped in news and findings from the learning industry. It also includes major activities and events happening within the organisation to keep the stakeholders and other parties updated with the latest information. After being in circulation for the past 4 years, it has been successful in doing what it aimed to – share knowledge, new developments and technologies in the eLearning space with thousands of readers across the world.
UL Buzz has gone through various transitions; each with a view to enhance the standard of articles presented and the reading experience in general. The colour, layout, and design aesthetics, which undergo constant improvement to reflect the latest design standards, have also been made responsive for a seamless reading experience on any device. Today, 50 issues later, UL Buzz continues to evolve with each issue, providing the readers with the latest in learning and making reading a pleasing experience.
The 50th issue can be viewed here – https://www.upsidelearning.com/resourses/elearning-newsletter/June-2015.html
Previous issues are available for viewing at https://www.upsidelearning.com/newsletters/
To subscribe to Upside Learning Buzz, please log on to –
https://www.upsidelearning.com/newsletters/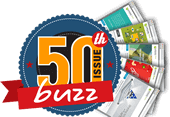 UL Buzz acts as the perfect portal in helping us get closer to the eLearning community, spreading our leaning and knowledge, and building deeper understanding and speeding up the pace at which we seek out answers to new questions. We still have a long way to go, yet reaching the 50th issue milestone adds to our strength and inspires us to move ahead with greater dynamism.
Amit Gautam
Founder & Director – Technology Solutions