The Brandon Hall Excellence awards are a testament to Upside Learning's expertise in developing custom content and learning programs that help organisations improve their performance and achieve measurable results.
This year's winning entries under the Learning and Development category were submitted jointly by Upside Learning and its clients. The details of the awards are as below:
Best Results of a Learning Program:
Silver: Upside Learning developed an eLearning solution for teaching a module of a Pharmacology BSc within an MBBS program. The e-modules allowed students to gain the essential background knowledge prior to teaching. This also allowed the teachers to focus more on the difficult concepts within the field. Analysis of exam performance showed a significant increase in the exam grades of the students.
Best Advance in Custom Content:
Bronze: Upside Learning developed an eLearning module aimed at helping report writers and other staff members write more effective reports and non-technical communications through the application of the Main Message Up Front (MMUF) concept.
The Brandon Hall Group HCM Excellence Awards program recognises achievements in the performance improvement domain. This prestigious award is presented annually by the Brandon Hall Group, a leading research firm that empowers excellence in organisations. The program invites entries from solution providers with innovative programs, cutting edge technologies and services that have helped organisations improve their performance and achieve measurable results.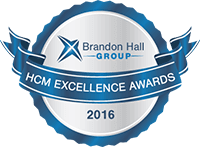 We're truly delighted to win two Brandon Hall awards this year. It is an honour for us to be recognised for our expertise in developing high-quality custom content that delivers measurable results for our customers. I'd like to congratulate the entire team at Upside Learning for their efforts.
Amit Garg
Co-founder & Director - Custom Learning Solutions