The tablet market is showing exponential growth with tablet sales touted to overtake that of notebook PCs with an estimated volume of 240 million units sold worldwide by end of 2013. Tablets are no longer limited to entertainment purposes like viewing video or playing games; they are now a part of organisational L&D activities across large and small businesses. However, designing and developing courseware for tablets still remain a challenge for most organisation. To cater to organisation like these and others too, Upside Learning has released a free eBook titled 'eLearning on Tablets – Getting it right'.
This latest release from Upside Learning is based on the company's recent discussions with its clients and prospects that point towards a growing demand for solutions on tablets, but at the same time highlight a clear lack of understanding of these media devices. For instance – Some enterprises are seeking to deliver learning meant for traditional desktops on these devices while for some, mobile learning (mLearning) is nothing more than delivering learning content on tablets. Nothing can be further from the truth.
eLearning on Tablets – Getting it right aims to get this truth out there – in front of organisation planning to implement eLearning on tablets as a part of their learning strategy. Some of the key topics covered in this informative eBook are:
eLearning on Tablets – The Basics
Designing eLearning For Tablets
Development and Authoring Tools available
Top 10 tips for designing and developing eLearning on tablets
Further, case studies of actual implementations have been used throughout the book to support the topics. This not only helps in better understanding of the concepts, but for organisation still unsure of implementing tablets for eLearning they add instant credibility.
The eBook can be downloaded (free) from here: https://www.upsidelearning.com/ebook/elearning-on-tablets-getting-it-right/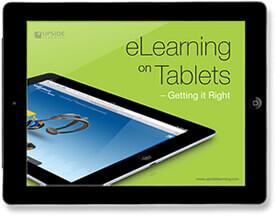 The book has been co–authored by two of the leading names in eLearning and mobile learning today – Abhijit Kadle, AVP – Learning Design, and Amit Garg, Director and Co–founder, Upside Learning. Both, Abhijit and Amit, have to their credit a large industry experience and vast knowledge of the mLearning domain.