Today on 7th April, Upside Learning, a leading provider of learning technology solutions, celebrates 11 years of delivering world-class eLearning and mLearning solutions to over 200 blue-chip organisations across the globe. It's a celebration of exceeding client expectations, innovating, learning and growing continually. Commemorating its journey so far, the company has released a timeline to highlight the major Milestones in its 11 year Journey.
Eleven years ago, Upside Learning's co-founders, Amit Garg and Amit Gautam, connoisseurs of learning technology, started an eLearning company with a simple aim – to provide innovative learning technology solutions for the global workforce. Year after year, the company has stayed true to this aim, building a tradition of excellence in innovating, developing, and delivering world-class learning solutions.
Today, Upside Learning has a staff of 200+ eLearning professionals, with a collective experience of 600+ person-years amongst them and has successfully completed more than 1000 corporate and academic projects for over 200 clients worldwide. The company's product and services portfolio includes Custom eLearning, Custom Mobile Learning Solutions, Multi-device/Responsive learning solutions including a Framework for Responsive eLearning Development (FRED) and a Testing Lab for QA of multi-device projects, and a best value, responsive Learning Management System, Learning Management System, UpsideLMS.
Looking back at the past 11 years, Amit Gautam and Amit Garg, smile at how far Upside Learning has come and the success it has achieved in the form of awards, client acquisitions, revenue growth, expansion and more.
Upside Learning endeavours to continually develop innovative learning solutions and provide cutting-edge solutions to its clients thereby impacting their organisational learning and hence, performance.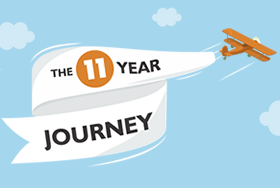 11 years, 200 clients, 200 employees, 35 awards, and number of projects later, it gives us immense pride to see how the small company that we started has grown into an efficient, state-of-the-art, global leader in learning technology! To this day, Upside is driven by the same passion and spirit, which has enabled us to constantly push boundaries and do new. We could not have done this without the support of our customers and team members.
Amit Gautam
Founder & Director – Technology Solutions